The Challenge
I was in the middle of... a tea ceremony inside the Temple of the Emoji when visitors arrived at the door. They were representatives from JNTO, the government tourism board of Japan, and came to me with a great task at hand.
Sensei, Japan is filled with so many colourful moments, how can we show this to Australians and encourage them to visit Japan?
Leave this to me. Now...who's hungry?
30 gyozas and many cups of matcha tea later, they wished me luck and were on their way out before mentioning about increasing their website traffic, email database, and promoting flights to Japan via their airline partner, All Nippon Airways. KPIs they called them. Piece of I called back.
The Solution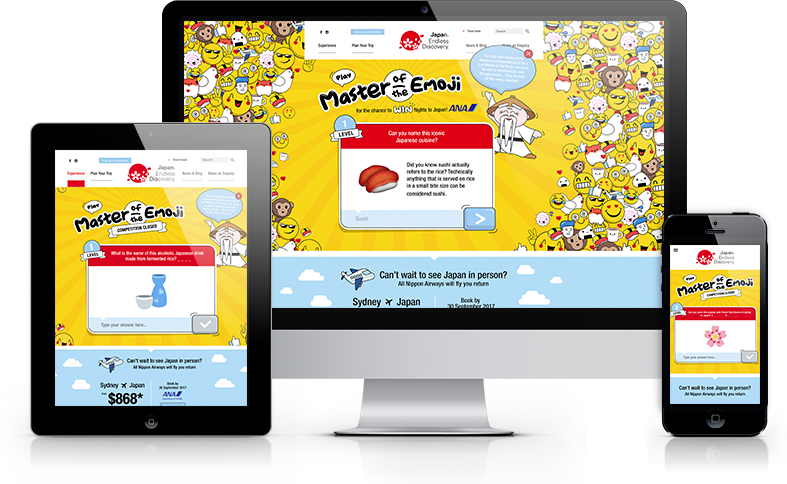 Ah, my Japan… land of the rising emoji, a land bursting with so many colourful moments that one is often lost for words. So we created the concept of emoji, a form of expression that could finally do justice to our surroundings!
That was 19 years ago. Since then, emojis have become a global phenomenon. The little piggy that used to go to the market now plays with kisswinks and laughcrys instead. Everyone and their snow monkey thinks they are an emoji whisperer. It was time to put them to the test hehe.
So we created a mini emoji game called 'Master of the Emoji' where people had to guess the meaning behind emoji icons and phrases. These represented all aspects of Japanese life including food landmarks and pop culture . For our partner, ANA, there was even an ANA branded plane emoji!
After passing the first 3 levels, players were eligible to win a trip to Japan by entering their details and answering the million yen question… what emoji, not currently in existence, do you need in your life and why?
Players were then encouraged to continue the challenge and try to conquer all 10 levels in order to become a Master of the Emoji (like me) and then show off to all non-Masters on Facebook hehe.
Results
After just a few days, it became apparent that the game was mecca for fans of Japan and emoji's with over 31,000 players. It did not take long to roundhouse kick to the temple all KPIs including a 248% increase in email database growth and 122% increase in clicks to JNTO's site.
Fortune favours the brave thumb and thousands proved themselves to be worthy Masters of the Emoji. One lucky person won two return tickets to Japan to experience all the colourful moments in person. Her entry was truly poetry to my .
Over 4000
new fans on
social media
+122%
of target:
Website
visits
+248%
of target:
Database
growth
Over 751,000
content reach